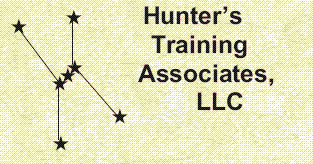 A Brief History of Hunter's Training Associates, LLC
The business was started by Hunter Cobb in 1994, by Hunter Cobb and his wife, Kathleen Graham. The business goal was to provide a framework for Hunter to deliver high-qualify technical training to IT professionals, primarily oriented towards the IBM mainframe applications development community.
The business is a Limited Liability Company, organized in the State of Colorado.
This page last updated: 22 November, 2017 - HHC
Copyright © 2017 by Hunter's Training Associates, LLC